Young Alumni chapter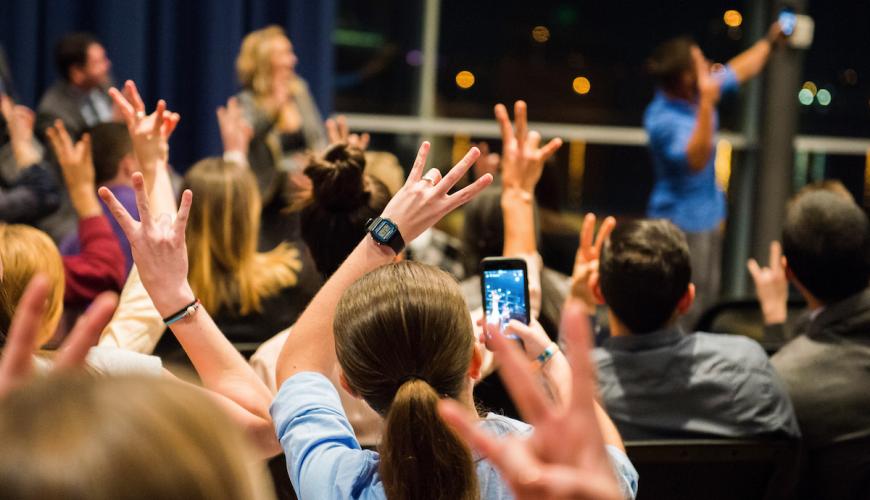 Welcome to the Young Alumni chapter! We represent Sun Devils ages 35 and under. We are passionate about being Sun Devils and are eager to grow professionally and socially, while connecting back to the spirit, pride and tradition of ASU. 
Every year we host networking mixers, volunteer opportunities, game-watching events and more. Be a part of the Young Alumni chapter and share your Sun Devil pride!
FAQs
Do I have to pay to join Young Alumni?
No, anyone is welcome to participate in the Young Alumni chapter's activities. Some events may have a cost to attend. You may notice "supporting member" and "non-supporting member" pricing. Membership is not required for participation in the chapter's activities, but we do encourage all Sun Devils to become supporting members of ASU Alumni.
What if I'm older than 35?
The Young Alumni chapter plans activities geared toward engaging recent graduates who identify as young alumni. However, there is no age restriction on participation.
What if I'm not an ASU alumnus or never received my degree?
Even if you attended ASU for just one class, you can still participate! The Young Alumni chapter offers opportunities for social engagement and professional networking for anyone who thinks of themselves as a Sun Devil.
How often do you hold events?
We plan at least one event every other month, including weekly game-watching gatherings in the fall, networking and career mixers quarterly and young alum socials mixed in year round. Be sure to visit this page for listings of our events.
Can my friends join Young Alumni, and can I bring them with me to events?
Absolutely! Guests are always welcome at events.
How do I join?
Easy. Simply show up to any of our events or contact our president, contact details are below. 
Can I join if I live out of the state or country?
Definitely! Our chapter represents and targets all Young Alumni within Maricopa County, but we have a network of ASU Alumni chapters and clubs across the United States that also plan events year round and occasionally host programs specifically geared toward Young Alumni. Click here to find your local ASU alumni chapter or club.
Can I be in Young Alumni if I'm an undergrad student or grad student?
Yes, current students are welcome to get involved with the Young Alumni chapter. The goal of the chapter is to aid in the transition from student to young professional. The sooner you get involved, the better!
Are there any requirements?
Just be a Sun Devil, support our mission and traditions ... and have fun!
How do I receive more information on upcoming news and events?
The best way to stay up to date is to read our newsletter and follow us on Facebook and Twitter. Our newsletter automatically goes to all alumni ages 35 and under. If you don't receive our newsletter, contact us at alumni@asu.edu or call 1-800-ALUMNUS.
Leadership and contact
Ashley Duran
Vice President
Caden Gillespie
Treasurer
Pinky Guerrero
Director of Marketing & Campaigns
Tatyana Soto
Board Member
Photo Gallery
Check out the Young Alumni chapter photo gallery of past events.
Career, Connections, and Cubs

Young Alumni Career Night.

Young Alumni baseball night at Phoenix Municipal Stadium.

Young Alumni night at the Brush Bar

Young Alumni career night at Tempe Center for the Arts.

ASU vs. Texas A&M game watching party at Alice Cooperstown.
Get involved
Chapter scholarships