Los Diablos chapter
Welcome to the Los Diablos ASU Alumni chapter! We help to serve our Los Diablos Sun Devils in the greater Phoenix area. Take advantage of the opportunities to get together, meet alumni, network, rekindle old friendships, and most importantly, to promote our alma mater and have fun!
Los Diablos was established in 1984 and is an organization committed to academic scholarship and community service. Los Diablos is the official Latino chapter of ASU Alumni and is an affiliate of the ASU Foundation. Los Diablos has been raising funds to provide financial assistance and support to outstanding college students of Arizona who attend and graduate from ASU. In addition to providing tuition scholarships, Los Diablos scholars are assigned to a board member who serves as a mentor, advocate and university liaison for the academic year. 
Founding Members: Romelia Carbajal, Manuel Dominguez, Aaron Kizer, Rosie Lopez, Tommy Martinez, Barbara Ortega, Carlos Ortega, Daniel R. Ortega, Hon. Ed Pastor, Verma Pastor, Ricardo Provencio, Sam Ramirez, Hilda Ortega Rosales, Nellie Soto, Richard Zazueta
Leadership and contact
Sonia Gomez
Vice President
Luz Osuna
Treasurer/Vice President of Scholarship
Linda Ruvalcaba
Vice President of Scholar Relations
Mia Edrozo
Vice President of Communications
JB Etchamendy
Mentor Program Chair
Dr. Giovanna Grajeda Grijalva
Corporate Advisory Board Chair/Golf Chair
Dr. Danielle Armas
Friends of Los Diablos Chair
Albert Santana
Golf Chair
Jesse Avalos
Stole Graduation Ceremony Chair
Giana Lujan Delgadillo
Roast and Toast Chair
Gerardo Garcia
ASU Cares Chair
Dr. Jose Leyba
Member at Large
Imelda Ojeda
Member at Large
Los Diablos Chapter 15th Annual Sam Ramirez Legacy Golf Tournament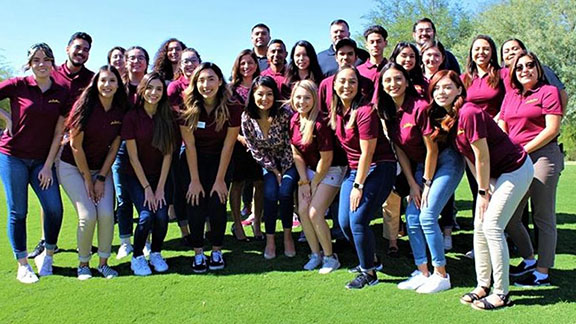 The Los Diablos golf tournament is an annual tradition, supporting ASU Latino students through fundraising for the Los Diablos scholarships.
Join us for the Los Diablos 15th Annual Sam Ramirez Legacy Golf Tournament. Attendees will enjoy a beautiful golf experience, VIP service, an outstanding luncheon and great prizes while supporting the Los Diablos scholarship and ASU Latino students.
This year's golf fundraiser will be held again picturesque Papago Golf Course, home of the Sun Devils in Phoenix, Arizona on Friday, Dec. 9, 2022. Proceeds from this event help provide tuition scholarships to outstanding Arizona residents who attend and graduate from ASU. We hope you share our pride in this scholarship tradition as well as the pride we have in our scholars and their successes.
Date and time: 8:30 a.m. - 1:30 p.m., Friday, Dec. 9
Location: Papago Golf Course, 5595 E. Karsten Way, Phoenix
For more information: Giovanna Grijalva, giovanna.grijalva@gmail.com
Get involved
Chapter scholarships