Welcome to the Philadelphia ASU Alumni chapter! We help to serve Sun Devils in the Philadelphia, Pennsylvania area. Take advantage of the opportunities to get together, meet alumni, network, rekindle old friendships, and most importantly, to promote our alma mater and have fun!
Pennsylvania Sparky License Plates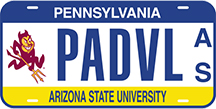 Be among the first in Pennsylvania to put a Sparky license plate for your vehicle!
To purchase one, go online to fill out this form and pay the required fee to purchase the plate and look for your email confirmation.
This email has the link to download your PennDOT form. Be sure to print it, fill it out, sign it and mail it to:
ASU Alumni Association
ATTN: Pennsylvania Sparky Plates
P. O. Box 873702
Tempe, AZ 85287-3702
Processing takes around 6 - 8 weeks.
Put your new Sparky license plate on your vehicle and show your Sun Devil pride!
ASU alumni Philadelphia chapter 2017 Sun Devil Send-Off
ASU alumni Philadelphia chapter 2016 Tillman Honor Run