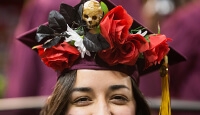 Step 1
Decorate your grad cap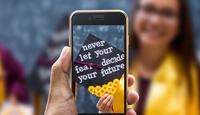 Step 2
Post a photo of your grad cap using #ASUGradCap on Instagram and Twitter or in a message to the
ASU Alumni Facebook page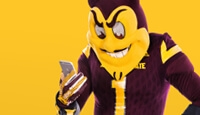 Step 4
Ask your friends to like your photo on the ASU Alumni Facebook album
---
---
Contest deadlines and eligibility
Share your grad cap photo by midnight, April 23, 2018, using #ASUGradCap on Instagram and Twitter, or send a message to the ASU Alumni Facebook page.

The grad cap photos will be posted on the ASU Alumni Facebook page, and voting will end at midnight, May 1, 2018. The five photos with the most likes will be announced May 2, 2018, here.
---
There is a limit of only one design per entrant, and the submitted work must be completely original and may not violate any laws such as copyright, trademark, intellectual property or any other ownership rights. All submitted designs must be appropriate and in compliance with the rules and code of conduct of ASU.
Eligibility extends to any registered ASU students, age 17 and older, who are graduating in 2018. Once submitted, the designs become the property of ASU and may be used at the discretion of ASU for marketing and advertising purposes. All rules concerning eligibility are subject to federal, state and local laws and regulations.
In the event of unforeseen technical difficulties, the ASU Alumni Association reserves the right to cancel the contest. The ASU Alumni Association also reserves the right to remove any submissions from the public eye if the design in question is found to be in violation of university rules or code of conduct. This determination may be made at the discretion of the ASU Alumni Association.
All information submitted to the ASU Alumni Association will be used solely for the facilitation of this contest. By participating in this contest, you acknowledge that the contest is a separate entity and is not endorsed, sponsored or connected in any way to the companies of Facebook, Twitter and Instagram. Any and all prizes redeemed from the contest are final and may not be redeemed for cash.