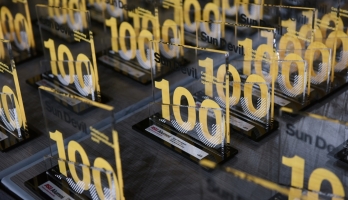 Sun Devil innovation and entrepreneurship comes in all forms, including successful technology-based companies, marketing agencies, restaurants, law firms, architecture firms, moving and logistics companies, printers, construction companies and health care-related business. The ASU Alumni Association has announced the Sun Devil 100 class of 2020, which recognizes alumni-owned or -led organizations for their business success.
The complete list features 100 organizations represented by 127 Arizona State University alums. The diverse mix of organizations that make up the Sun Devil 100 class of 2020 has combined total revenues of $6.5 billion for last year, employs more than 12,000 people and has locations in 11 states.  
"ASU alumni have created and led some of the most innovative and successful businesses and organizations," said Christine Wilkinson, president and CEO of the ASU Alumni Association. "The Sun Devil 100 recognizes organizations from a variety of sectors that demonstrate innovation, growth and the entrepreneurial spirit reflective of ASU's transformative charter."
The conferral rankings of the fastest growing organizations by revenue growth rate will be announced at a special luncheon on Monday, May 4. To be considered for the Sun Devil 100, companies must be ASU alumni-owned or -led; have been in business for at least three years; have revenues of $250,000-plus in a calendar year; and operate in a manner consistent with the ASU charter.
"The Sun Devil 100 honors the entrepreneurial excellence of ASU alumni through this business recognition program," Wilkinson said. "The program celebrates the innovation of ASU alumni who propel entrepreneurial ideas forward."
Asquared Studios, an architecture firm with multiple offices in California, has been named to the class of 2020 and also was a class of 2019 honoree. The firm is co-owned by two alums who graduated with degrees from ASU's architectural studies program.
Tony Garcia, '95 bachelor's degree in design and co-founder and a principal architect with the firm, said, "ASU prepared us to have a very collaborative mentality. It allowed us to take that and what we learned into our adulthood and use it so that we could prosper as we do now in our business." Co-founder and principal of Asquared Jessie Whitesides, '95 bachelor's degree in design, said about being an entrepreneur, "To be a successful entrepreneur, you have to be passionate and resilient. You have to live, work, eat and breathe what you do."  
Through the Sun Devil 100 program, ASU's entrepreneurs have the opportunity to share their insights with the Sun Devil network. Last year, the program also included a panel of Sun Devil 100 business leaders sharing insights about entrepreneurship and growing a successful business.
"We started Sun Devil 100 Stories, and it's working with these honorees and their companies that have wonderful stories and presenting that in a format for the business community and students," said Trish Gulbranson, Sun Devil 100 committee chair and former chair of the ASU Alumni Association board of directors and National Alumni Council.
Three Sun Devil 100 business owners from the class of 2019 will share their stories of entrepreneurship at the upcoming Sun Devil 100 Stories: Women in Business panel on Wednesday, March 18, at 5:30 p.m. at Papago Golf Course in Phoenix. 
Sun Devil 100 committee member and partner and ASU Alumni Association National Alumni Council member Tim Gertz said about his involvement in the business recognition program, "To be able to be part of Sun Devil 100 and help support these honorees and help them achieve their goals and vision, I think that is one of the strongest bonds we can have as ASU alums."
Sun Devil 100 is supported by Henry+Horne, Tempe-based ProVision, Liberty Mutual and the Phoenix Business Journal.