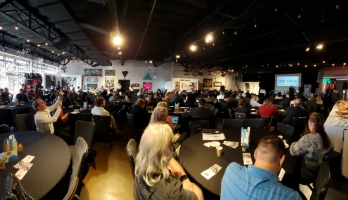 Imagine navigating campus using a 3D map, or learning using virtual and augmented reality in the classrooms of the future. Imagine decongested traffic, and aid being brought to the distressed homeless population of Phoenix. These are all possibilities of leveraging devices connected to the internet for Arizona State University's Smart Region initiative, an effort to bring everyday life into the future.
As the conclusion to a whole week of "Smart" events, last Friday's Smart Region Summit Flagship Event saw higher education, government and industry partners come together with ASU and its University Technology Office not only to further develop what our smart region looks like, but also to apply the ideas proposed there across the country and globe.
The day was framed by major strategic partnership announcements, introduced by ASU's University City Exchange Executive Director Duke Reiter and Morgan Olsen, executive vice president, treasurer and chief financial officer at ASU.
"These new partnerships open up a lot of opportunities for us, expanding the reach and promise of the Smart Region initiative," Reiter said.
Alteryx and ASU are teaming up to use the former's data analytics platform to effectively use data to solve the challenges of developing a smart region. This partnership, shared in person by Alteryx CEO Dean Stoecker, will give students, faculty and staff members an edge on tackling real-world business issues and driving social impact.
Further, Cox and ASU announced their plan to launch the Cox Connected Environments Collaboratory at ASU, an incubation space that will cultivate a smart region ecosystem. Cox Communications Executive Vice President and Chief Strategy Officer Sujata Gosalia spoke to the need for a consistent, powerful network on campus and beyond to really capitalize on the promise of the Smart Region initiative. Students, faculty and staff members will develop internet of things (IoT) solutions to problems facing the optimization of buildings for sustainability, provide new learning experiences in virtual and augmented reality, overhaul transportation infrastructure and more.
These announcements signal a big commitment to the improvement of the experience of ASU community members and beyond. They are part of a large effort, indicated by a collaboration with Sprint last month, to bring 5G, the Curiosity IoT Network and a whole new degree program for IoT development, detailed by Sprint Senior Vice President of Internet of Things Ivo Rook at the Flagship Event.
Deep conversations were started by Global Futures Group Chairman Jerry Hultin, who gave context for the nature of smart initiatives around the world, and "The Smart Enough City" author Ben Green.
"The broad message of my work and my book is that there are a lot of different ways to think about (building smart cities)," Green said.
One way of thinking differently about it is bringing connection to underserved communities; a Digital Equity panel brought consideration of rural and tribal needs. Meanwhile, leaders on the Leading Smart City Practices panel recommended approaches for devising strategies and implementing change. The Connective, the Greater Phoenix Smart Region Consortium instated at the Flagship Event, addressed the challenges and opportunities for bringing Phoenix into the future. ASU Chief Information Officer Lev Gonick said The Connective was the big idea of the day.
"(This is) the first major regional effort in the United States to engage communities across the Valley in co-designing and co-investing in our smart and connected futures," he said.
A lot of information was shared with and by attendees at the Smart Region Summit, but ultimately, it was their collaboration that held the most promise for moving the needle. Participants broke into groups to make actionable plans for topics like bringing broadband/fiber to rural communities by way of increased investment in infrastructure. Another group looked at increasing mobility in congested urban environments using LiDAR (Light Detection and Ranging), which can map 3D environments and provide useful data for transportation overhaul projects. 
Sustainability, recycling/waste management and water conservation efforts also benefit from enhanced sensors and predictive maintenance algorithms that can allow facility management services to fix a problem before it even arises and wastes precious resources.
Thursday also saw the convening of the Smart Campus Innovation Day. It was part of a roster of 19 events, such as an introduction to the "secret weapon" on the "War on Waste" and the Chandler Autonomous Vehicle Symposium.
Enhancing the safety and well-being of students and constituents, the ethical use of data, inclusivity, digital equity and driving sustainable results were the big themes of the day. While the Flagship Event was an exclamation point on a full week of conversations and collaborative strategizing, it is only the jumping-off point for the new, actionable ideas generated there.